About Us
"Thank you. I was very impressed with your service." -- S.M. in Connecticut
Bookmarc's is a group professional booksellers and enthusiastic book collectors who have been selling books online since 1997. We are physically located in LaPorte, Texas, a suburb of Houston, but do not currently have a physical storefront. We tend to specialize in all books Signed, Mystery, Texana and Western Americana.  At the same time, we also offer a broad assortment of quality books in a wide variety of other subjects. We also try to acquire collectable, less-common or "quirky" books that we think might be difficult to find generally.

We are members of the Independent Online Booksellers Association and the Horatio Alger Society.

Go to our list of 'Frequently asked questions'.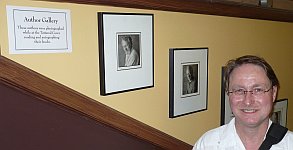 Frequently Asked Questions

Please feel free to call us at 832-474-3973 (text preferred) or email us at [email protected] if you cannot find an answer to your question.
Do you have a brick and mortar store that we can come and visit?
No, currently are an internet only business, but we do hope open a bookstore one day.
How do you package my purchase for the mail?
At Bookmarc's, we consider it a sign of our professionalism as booksellers that we pack books for mail shipment using materials and packing techniques that completely protect your book while it is enroute to you. Our intention is to package each book well enough that we are confident it will arrive in the same condition it was when we described it for our online catalog. At Bookmarc's, our intentions are always to do everything we can to make sure that our customers are completely satisified with their shopping experience with us.
Does Bookmarc's sell books on any other site like ABEbooks, Alibris, Amazon, or Biblio? 
We are currently selling on all four of those sites in addition to a few more.
Where are you located and how long will it take me to get my order?
We are located in La Porte, Texas, a suburb of Houston. Unless expedited air service is requested, all Bookmarc's domestic packages are shipped via USPS (i.e., United States Postal Service) 'media mail'. Media mail packages generally take about 5 to 10 business days to most locations in the lower forty-eight states. Please see our 'Shipping Information' page for more details.
 I write you to confirm the book arrived well to Spain. It was very wall packaged. Thanks for sending it so fast!!!! -- Suso in Spain 
Do you ship internationally?
Yes we ship internationally, but we can only ship to most international addresses via airmail. If you want another option, please contact us prior to ordering for a quote. If you want insurance or any other postal options, please contact us prior to ordering for a quote as well as to confirm whether an option is actually available from the US to your address. We are only able to accept credit card payment for international orders.
 "I just received Mary Lasswell's book Mrs. "Rasmussen's Book of One-Arm Cookery." It arrived today and if that's what you call 'good' quality I love it! This book is in Very, Very Good condition and I thank you Very Very Much! Your site is now in My Favorites and I'll check back to see if you have any others I'm searching for." -- Darlene in Seattle 
How do I know the condition of the book I am buying?
We use traditional book condition rating terms including 'As New', 'Fine', 'Near Fine', 'Very Good', 'Good', 'Fair', and 'Poor'. We generally do not sell poor condition books unless the book is so scarce that even in this condition it is useful as a reading copy. Generally, we also will at times use a '+' (i.e., Plus) or '-' (i.e., Minus) to designate a book grate that is slightly better or worse than a stated grade (i.e., Very Good).

A more detailed description of condition terms:

AS NEW; FINE: Without faults or defects.

NEAR FINE: a book approaching FINE (or AS NEW or MINT) but with a couple of very minor defects or faults, which are noted.

[NOTE: From here on, there may be "+ (Plus)" or "- (Minus)" in a grade, which will mean that it is above the grade noted but not quite to the next higher grade for "+", and that it is below the grade noted but not quite to the next lower grade for "-", i.e., Very Good + (or Plus)/Very Good - (or Minus). Which means the book is better than Very Good and the dust jacket grade is less than Very Good.]

VERY GOOD: A book showing some signs of wear. Any defects or faults are noted.

GOOD: The average used book that is totally complete (as issued) and intact. Any defects are noted.

FAIR: A worn book that has complete text pages (including those with maps or plates) but may lack endpapers, half-title page, etc. Any defects or faults are noted.

POOR: A book that is sufficiently worn that its only merit is the complete text, which must be legible. Any missing maps or plates must be noted. May be soiled, scuffed, stained, or spotted, and may have loose joints, hinges, pages, etc.

***In our condition descriptions we place a special emphasis on describing all book flaws in such a way that it is as easy as possible for a buyer to imagine a book's condition.***
What is a remainder mark?
A remainder mark is a small mark on the side of the book or sometimes a small red star on the inside cover. It implies in no way that the book is defective or used. Publishers do this to protect themselves from the book being sold in the wholesale market to trade bookstore.
Why don't you have ISBNs for all your books?
International Standard Book Numbers (ISBNs) did not begin to be used for books published in the US until the very end of the 1960s. Even then, the adoption of this title identification system was only gradual and it was implemented inconsistently. To confuse matters even further, similar books often have numerous ISBNs due to each country's edition having its own country as part of the ISBN as well as different ISBNs being provided for reprints and other minor edition revisions. At Bookmarc's, we provide book ISBNs only when they are printed in the book or on its cover or dust jacket.
What language is the book?
Generally, the books we sell are in the language of their title. All of Bookmarc's book descriptions clearly state the language the book is printed if it is not English. Our descriptions will even list the languages used for books printed in English as well as one or more other languages (i.e., bilingual, interlinear translations, etc.). In any situation where there the posibility of confusion might arise we will always clearly state the language of the book in the book description.
How do I cancel or change my order?
Please contact us as soon as possible if you want to cancel or change your order. Generally we try to ship orders within one day so if we receive the changes in time, we will do our best to stop the package before it goes out the door. If we are unable to stop the book, we have a generous and very reasonable return policy and will work with you to make everything all right. In all fairness, we generally do not refund shipping charges on returned orders if the correct item is shipped and the condition description is correct. Still, we want to make you happy with your Bookmarc's experience so please feel free to contact us. We are confident that we can work out a solution to any problem that comes up regarding your order.
 "Thanks so much for your timely and professional shipping of the J. Frank Dobie book to the Kansas address. I've kept your card and will do business with you again." -- David in Kansas 
What if I get a book I did not order? What if I have received the wrong order? 
If you receive anything different than what you have ordered, please contact us. We will correct our mistake as soon as possible.
What if my order does not come in the time expected?
If you have any concerns about the arrival of your order, please contact us. Our packages are shipped with USPS tracking numbers so we can usually help you find out the location and estimated delivery date for your books. Generally, you can expect your order to arrive in about 4 to 7 business days (do not count Saturdays, Sundays or Holidays). It is uncommon but possible for a package to take as long as ten business days to arrive. Even though most of the orders we ship arrive within the 4 to 7 day estimate, the official post office delivery time for Media Mail packages is between about 5 to 10 business days. Again, please contact us if you are concerned about the arrival of your package. Your order is important to us! We want you to be happy and receive your books as soon as possible. (Delivery time estimates are for US addresses only.)
"Just a quick note to let you know I received the volume, "Last Flight Out," in perfect condition quickly shipped. Thanks again for your high level of responsibility, it is much appreciated." -- Michael in Florida
I need to change my account information. How do I do that?
Log In to your account. After doing that, click on the "Account Maintenance" link in the "Site Links" box in the left hand column. You can change your account information from there.
How do I change my address or other personal account information?
Go to Bookmarc's home page and click on the "Navigation" link called "Account Maintenance". Click on this link and change or update your information.
Do you Bookmarc's have a fax number?
Yes, you can send faxes to Bookmarc's at 928-438-2573. If you want to place a book order using a fax, please include contact information, either a phone number or email address so that we can contact you with any questions we have about your order.

Do you accept PayPal payments?
Yes, Bookmarc's gladly accepts PayPal payment for book orders. We encourage our customers to consider PayPal because of the protection it provides buyers from both fraud and identity theft. Bookmarc's is a 
PayPal Verified
 online retailer.
What forms of payment does Bookmarc's accept?
We prefer to offer our customers the greatest possible flexibility of choosing a payment option for their purchases. Because of this we willing accept personal checks, money orders, credit cards, and PayPal. Direct credit card purchases can be made with Visa, MasterCard, American Express, and Discover credit cards.


I don't like giving my credit card information out over the internet, what happens to that information when I use your site?
The data is encrypted and is processed on secure servers using 256-bit high-grade SSL encryption. This security service is provided by Thawte. For additional protection, your payment information is only available until the transaction is processed and then it is deleted. Bookmarc's does not keep your credit card information "on file". If you still would prefer to use your credit card for payment without paying online, you can call us directly at 832-474-3973 (text preferred) and make your credit card purchase over the phone. Another option is to send a fax to us with your book order and credit card payment information. Our fax number is 928-438-2573.
How secure is your website?
Information provided through our Shopping Cart, Checkout, and Login pages are protected by 256-bit high-grade SSL encryption which is certified by Thawte. Thawte is a leading global certification authority and their digital certificates are used globally to secure servers, provide data encryption, authenticate users, protect privacy and assure online identities through stringent authentication and verification processes. Our security certificate is registered to Chrislands, our website hosting service.
How is my personal information protected?
This web site uses strong security measures, including 256-bit high-grade SSL encryption, to protect the loss, misuse and alteration of your personal information. Our 256-bit high-grade SSL encryption is certified by Thawte, a leading security certification authority. Thawte digital security certificates secure servers, provide data encryption, authenticate users, protect privacy and assure online identities secure through stringent authentication and verification processes. The security certificate for Bookmarc's BookmarcsOnline.com secure pages is registered to Chrislands, the company that handles our Internet hosting service.
How will credit card purchases made at this web site show up on my credit card statement? 
Credit cards purchases from us will be listed as "Bookmarc's" on your credit card statement.